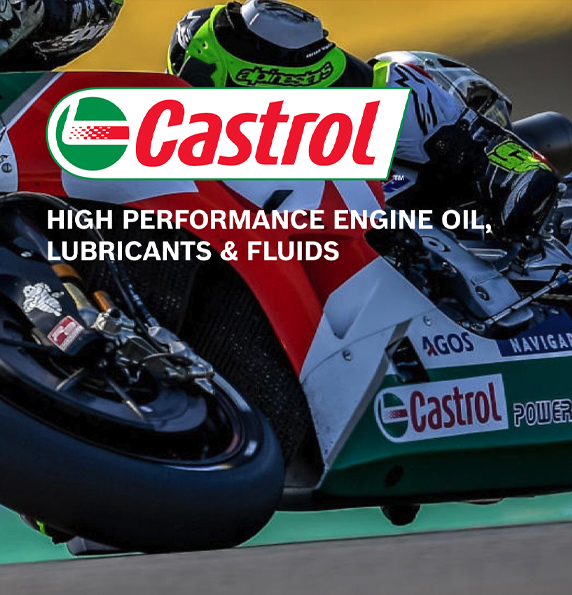 ---
It's more than just oil.


It's liquid engineering.

Castrol

provides products the world needs, for every driver, every rider and every industry.

Castrol is the world leading manufacturer, distributor and marketer of premium lubricating oils, greases and related services to automotive, industrial, marine, aviation, oil exploration and production customers across the world. Castrol offers lubricants for virtually all domestic, commercial and industrial applications.

For automotive lubrication (including motorcycles 2-stroke and 4-stroke engines, car petrol and diesel engines), their products include an extensive range of manual and automatic transmission fluids, chain lubricants and waxes, coolants, suspension fluids, brake fluids, greases, cleaners and maintenance products.

They also produce products for agricultural machinery, plant, general industry and marine engineering uses. All their products have a global chemical registration status and meet compliance in all locations where the product is used.

Ensuring Better Engine

Protection & Performance

Castrol works closely with leading industry OEMs, with whom they supply a broad range of lubricants designed for particular operating conditions and environments. Many of their products are recommended by and co-engineered with major OEMs, including Audi, BMW, Ford, MAN, Honda, JLR, Volvo, Seat, Skoda, Tata and Volkswagen, for their 'new to the world' powertrains.

They know that you need every part of your world to run smoothly, so they lubricate every part of the car or motorcycle you own, the escalators at your local mall, the elevator at your office, and even the production line that made your refrigerator. Castrol is here for you in America's mines and quarries, its cruise ships and airliners, its wind farms and wheat fields. Whatever you need, Castrol will help make it happen.
Additional information is available online at www.castrol.com/us
---
Featured Product

Castrol EDGE

Castrol EDGE has been engineered to withstand the stress of modern engines and provides 10X better high temperature performance than the latest industry standard. Increased demands to deliver power and fuel efficiency create intense friction between critical engine parts that can waste up to 10% of an engine's performance. Castrol EDGE transforms its structure under pressure to keep metal apart to reduce friction for maximum engine performance and delivers 6X better wear protection than required by the latest Sequence IVA test limits. It has the strength to maintain this unsurpassed level of engine protection for an extended drain cycle of up to 10,000 miles between oil changes which is the interval recommended by many vehicle manufacturers.

Semi-flexible, medium-strength anaerobic flange gasket
3X stronger than the leading full synthetic*
10X better high temperature performance**
6X better wear protection***
Protection for 10,000 miles between oil changes
Improves fuel economy (0W grades)
Carbon Neutral****

* In viscosity breakdown as measured in Kurt Orbahn test on 5W-30 grade

** As measured in the Sequence IIIH engine test vs. API SP test limit

*** As measured in the Sequence IVA test vs. latest test limit

**** In accordance with PAS2060. www.castrol.com/us/cneutral for details on our Path 360 sustainability program